RF

,

Moscow

,

5 b.7 Leningradsky prospekt

,

125040
In March, 2000 Aviastar-Tu airline crew has made the first international flight on the cargo aircraft Tu-204C assembled at the Ulyanovsk aircraft factory. It has become possible because of enthusiasm and aspiration of founders of Aviastar-Tu airline to support russian aviation industry.
Tu-204C RA-64021 has become the first cargo aircraft of this type which is in regular operation. Results of operation of this aircraft showed that Tu-204C can successfully compete with foreign samples.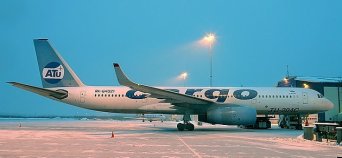 2000 – 2003 - regular flights from the airport Liege (Belgium) to airports of Iceland and England under the contract with the TNT Express company – one of the largest companies of the international industry of express delivery of documents, sending and corporate freights.
2003 – 2008 – JSC Aviastar-TU makes regular cargo flights Moscow-Brussels-Moscow under the contract with DHL-Express – the German international company taking a leading position in the world logistic market.
2006 – mutual operation of TU-204 with LIWA Air (UAE) in the Middle East market.
2008 – the present – work with the DHL Express and the beginning of regular cargo flights Moscow-Leipzig-Moscow 6 times a week .
2012 – cargo delivery under the contract with DHL Express from Bahrain to Afghanistan.
2013 – the present – transportation of mail and e-commerce from China to Russia.
2013 – the present – in-Russian transportations of mail under the contract with Russian Post.
Moscow office
RF

,

Moscow

,

5 b.7 Leningradsky prospekt

,

125040
Zhukovsky office
RF

,

Zhukovsky

,

4, Grishenko str.

,

140180